The 2022 - 2023 Season
Three-Play subscriptions now available
---
Subscribers get the best seats at the best price
...and free underground parking
Three Plays Remaining in the 2022-2023 Subscription Series
OUR FATHERS, SONS, LOVERS AND LITTLE BROTHERS by Makambe K Simamba February 1 – 19, 2023
SPACE GIRL by Frances Koncan
March 15 – April 2, 2023
VOLARE by Elio Zarrillo
April 26 – May 14, 2023
Plus Get a Subscriber's Discount for
PANDORA by Jessica B. Hill
January 25 – February 12, 2023
SEASON TICKET HOLDER ADVANTAGES!
GUARANTEED PRIORITY SEATING
FREE EXCHANGES, including by phone
A 10% DISCOUNT AT THE LOBBY CAFE at the performances
15% off additional single tickets
And did we mention the FREE, HEATED INDOOR PARKING?

Did you see Bad Parent or Outside Joke's A Christmas Carol?
You already have a credit towards a subscription!
You can apply the cost of your ticket for either of the two earlier shows this season against a three-play subscription, plus giving you a retroactive discount on that show!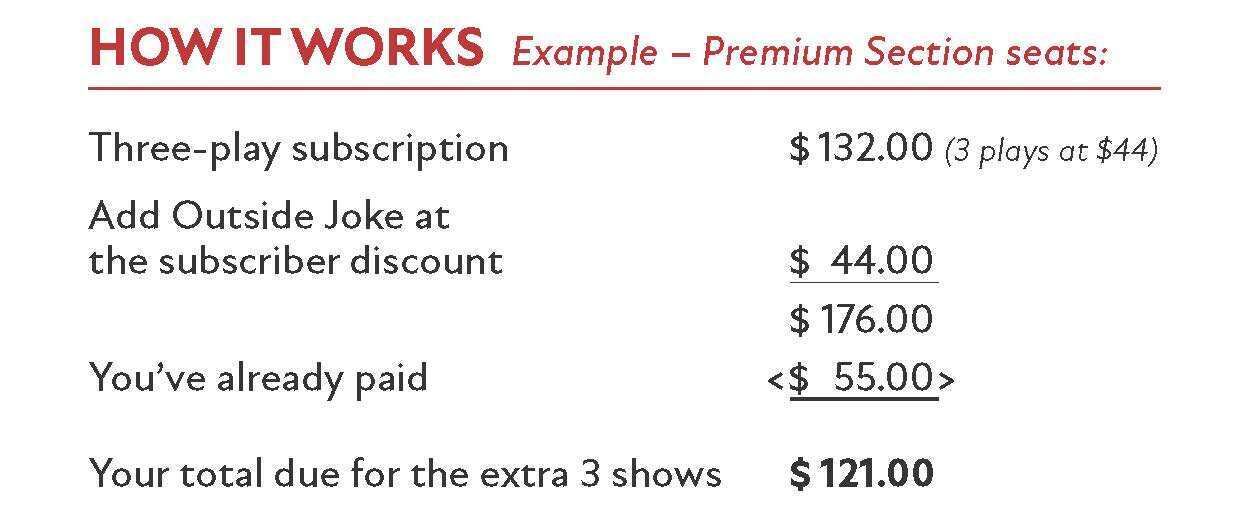 Your earlier purchase can be applied against any seating section for any date in a run.
CALL THE PTE BOX OFFICE to convert your single ticket into a discounted subscription!
Set aside three dates over the next five months for yourself and a loved one to get away from it all at the theatre. Subscribe now!